Vaginal rejuvenation
is a term that encompasses a variety of cosmetic procedures designed to improve the appearance and/or function of the vagina. These procedures can address issues such as vaginal laxity, dryness, and sexual dysfunction. INDIBA is a brand name of a device that uses radiofrequency energy to stimulate collagen production and improve the elasticity of the vaginal tissue.
The INDIBA procedure is non-surgical and typically performed by a trained healthcare professional in a medical office or clinic. The procedure involves the use of a wand-like device that delivers radiofrequency energy to the vaginal tissue. The energy heats the tissue, which stimulates collagen production and improves the elasticity of the vaginal walls.
The procedure is relatively quick, taking about 30 minutes to complete. There is little to no downtime associated with the procedure, and patients can typically return to their normal activities immediately after the procedure.
The results of INDIBA vaginal rejuvenation can vary, but many patients report improved vaginal tightness, increased sexual sensation, and improved overall vaginal health. Some patients may require multiple treatments to achieve optimal results.
It is important to note that vagina rejuvenation procedures are not medically necessary and that the long-term effects and safety of these procedures have not been fully studied. Before considering any procedure, it is always recommended to consult with a healthcare professional to determine if it is the right option for you.
It is important to do a research on the practitioner and the procedure they are going to perform. It is also important to know that these procedures can have risks and side effects, so it's essential to be well-informed before making any decisions.
Benefits of Vaginal rejuvenation
Rejuvenates hidden spots such as the "cam area", vaginal mouth, and inside the vagina
Can be used before or after surgery such as cam cosmetic surgery, vaginal cosmetic surgery, and membrane plastic surgery
Helps with vaginal distension and degeneration or atrophy of the genitals or vagina
Can be used to alleviate vaginal dryness
Used in conjunction with the treatment of urinary incontinence
Improves vaginal contractions and can help with vulvar vestibulitis syndrome
Reduces scarring and retracting of fibrosis
Can help with pelvic inflammation
Can lead to increased performance and mood during sex
Can be used to alleviate chronic pelvic pain and sexual pain (dyspareunia)
Are you interested in learning about our current promotion for the Vaginal rejuvenation ?
This non-surgical treatment uses technology to stimulate collagen production and tightness in the vagina, improving issues such as vaginal discharge and urinary incontinence. Each session, performed by a female doctor, takes around 40 minutes and prices start at 4,999 THB. At Siam Clinic, we offer three different service options to choose from.
Vaginal rejuvenation Rejuvenate: This 30-minute session focuses on rehabilitating the inside of the vagina, including tightening, improving pelvic tissue, reducing internal inflammation and balancing secretions. It also helps to reduce symptoms of urinary incontinence and pain during intercourse, as well as recovery after childbirth.
Vaginal rejuvenation Return: This 30-minute session focuses on improving the appearance of the outside of the vagina, including making it full and fluffy, reducing dark circles, improving wrinkles, and tightening the outer and inner labia.
Vaginal rejuvenation Renew: This 60-minute session provides a comprehensive rehabilitation for both internal and external areas of the vagina. It addresses all issues, including rehabilitating pelvic tissue, reducing internal inflammation, balancing secretions, reducing symptoms of urinary incontinence, and reducing pain during intercourse. Additionally, it helps with postpartum rehabilitation, reducing dark circles, improving wrinkles, and making the outer and inner labia firmer.
Vaginal rejuvenation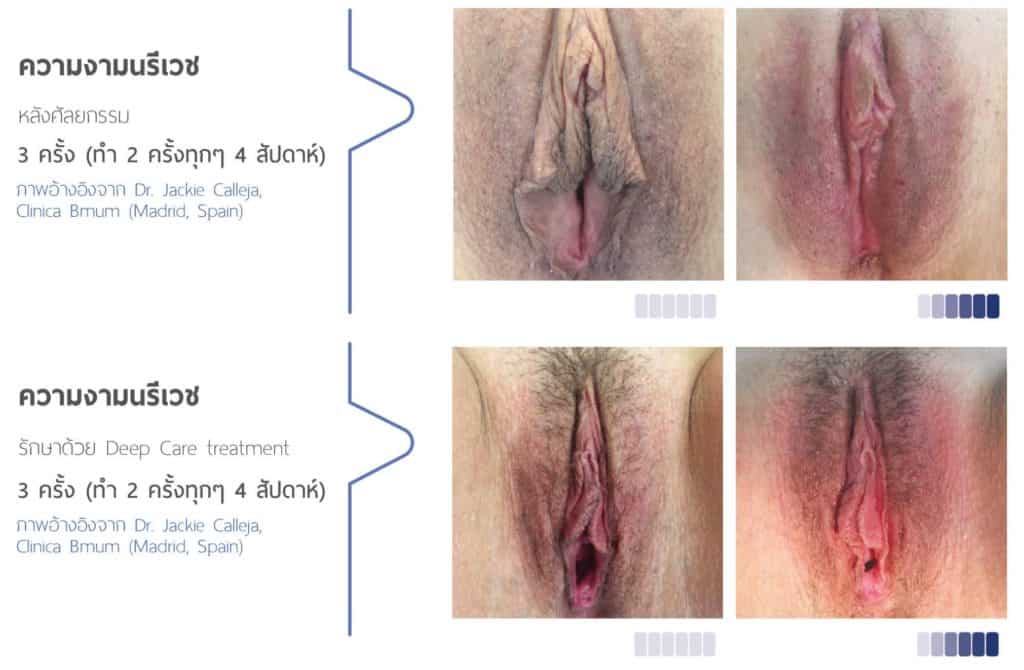 Interested in Vaginal tightening, contact us