Meso Fat
Mesofate injection is a specific injection into the fat layer. To break down excess fat, reduce cellulite, stimulate collagen re-production, preventing the skin from sagging after fat breakdown when the drug is injected into the fat layer. I'm going to destroy the fat cells. When fat cells die, they become waste, which is excreted through the lymphatic system for people with facial fat problems, such as cheeks, which cause the face to become slender and round-faced and want to get rid of fat. Make the face smaller.

What is Meso

Fat?
Mesofat injection is a type of injection that is injected into the skin layer, mainly in the face, on the cheeks, and has the ability to break down fat. Sweat, passawa, etc. No surgery or recovery is required in a short time.
---
Where can Meso Fat be used?
Cheek Reduction Make your face look slender. Reduce excess fat on the face
to reduce Double Chin Reduction
Lower the upper arms, thighs (in case of the appropriate size. If you have a large amount of fat, it is recommended to do liposuction or exercise, lose weight to reduce the proportion of fat first.)
Abdominal reduction Reduce the bulge, lower the hips (in case of the right size. If you have a large amount of fat, it is recommended to do liposuction or exercise, lose weight to reduce the proportion of fat first.)
Reduce fat alongside armpits (fairy wings)
Love handles
---
Meso Fat
L-carnitine accelerates fat burning (Lipid beta-oxidation), draws fat into more energy.
Artichoke extract (Cynara scolymus) stimulates coenzyme synthesis in the process of anabolism, reducing fat tissue. It is suitable for overweight people who want to lose fat on the spot, inject cheek reduction or want to reduce cellulite.
Tyrosine accelerates metabolism
Mesostabyl (Polyunsaturated phosphatidylcholine) stimulates the action of lipase enzymes and reduces the formation of triglyceride, inhibiting the formation of cholesterol in tissues.
---
What is fake Meso Fat?
There are two drugs that have a mesophot-like effect, but they are actually dangerous:
Steroids

Dermatologists usually use it in a steroid called Triamcinolone for acne injections, Keloid injections, which, if used at the right dosing, pose a predictable level of risk. However, if injected into the body uncontsted, it can cause side effects from the steroids that can occur in size.

Hyaluronidase

Mesofat, popularly sold on the Internet, is a hyaluronidase.
Hyaluronidase is normally used to safely inject fillers by injecting large quantities of collagen into the skin. However, when used to reduce the size of the cheeks, it causes premature wrinkles and skin to deteriorate due to collagen deterioration.
---
What can

Meso Fat

do?
Mesofate injections help to make the face slender. For those who have a lot of facial fat problems, such as cheek area. Front frame, including escape
---
What are the advantages and disadvantages of Meso Fat?
Mesofat Giving Advantages
Helps to adjust the face to the proportions of the slender face. It's a good value for your body.
No surgery and recovery required.
He's not hurt. No anesthesia required. It doesn't take long to inject.
Mesofat Precautions
There is a chance of allergy.
Swelling after injection about 1-2 days
After injection, the results may not be immediately seen. It must wait 2-4 weeks.
---
How to take care of yourself after

Meso Fat
Drink plenty of water to help break down as much fat as possible, at least 2 liters a day.
No smoking and alcohol
Adjust your eating habits and control weight Avoid frying so as not to increase fat and reduce the accumulation of new fats.
Exercise regularly to build muscle and extrus more fat from the body.
---
Precautions for giving

mesofat Who doesn't

deserve it?
Pregnant Women
Patients with underlying diseases such as diabetes
Patients with circulatory diseases
People who use anticoagulant drugs have vascular diseases. Heart disease or circulatory system
People with immunodeficiency
Cancer patients
---
How many needles does Meso Fat

need? How long does it last?
The doctor will evaluate each person's face how many needles should be given. The average for each giving is 1-3 needles.
After mesofat is given, the effect will be seen for 2-4 weeks, and it can be repeatedly injected to get the face in place and permanently break down the fat.
After mesofat, the fat begins to decompose and decrease by 10-20% from the first time it is injected, how much fat is reduced, the result depends on the fat content of the individual, including daily use and diet.
---
Case review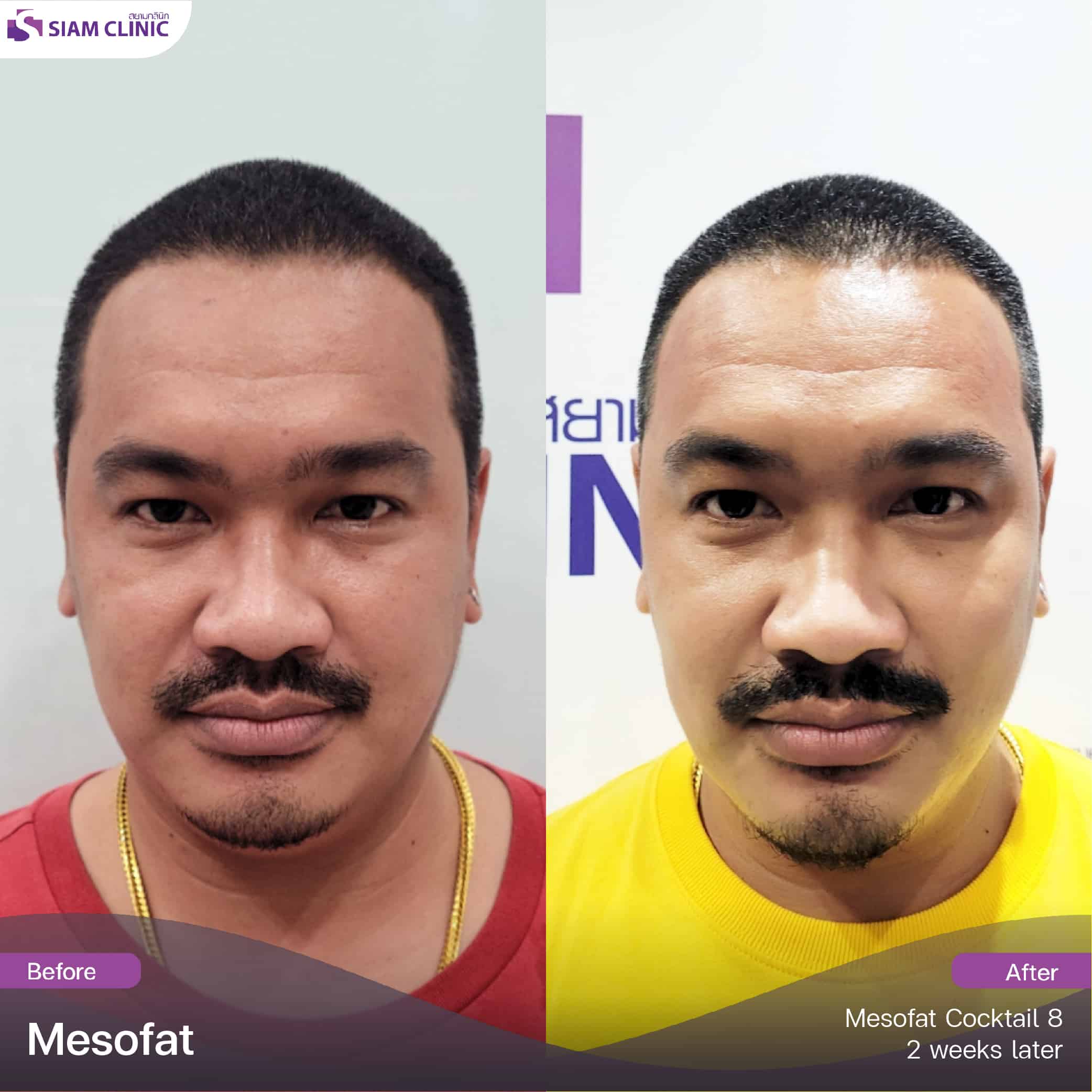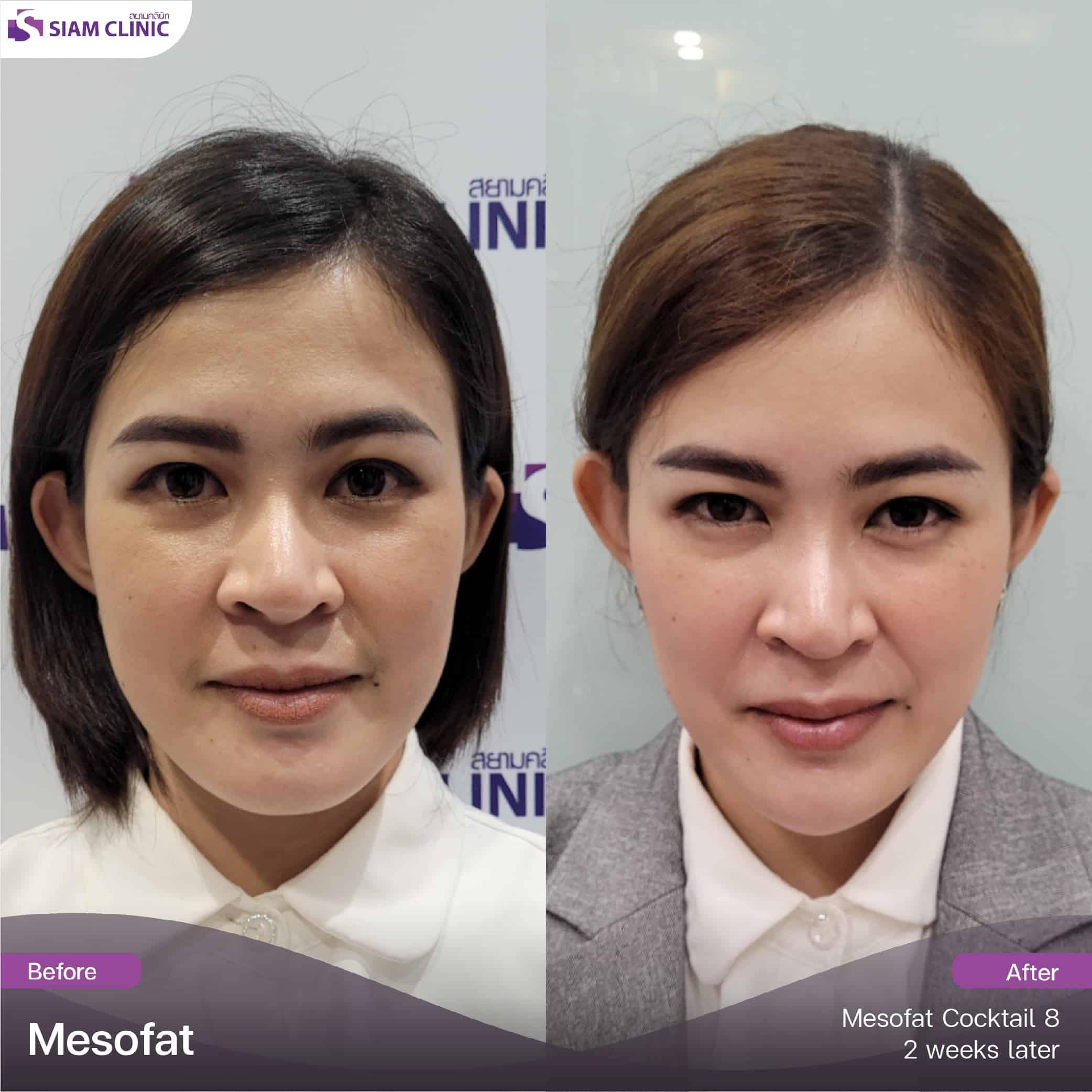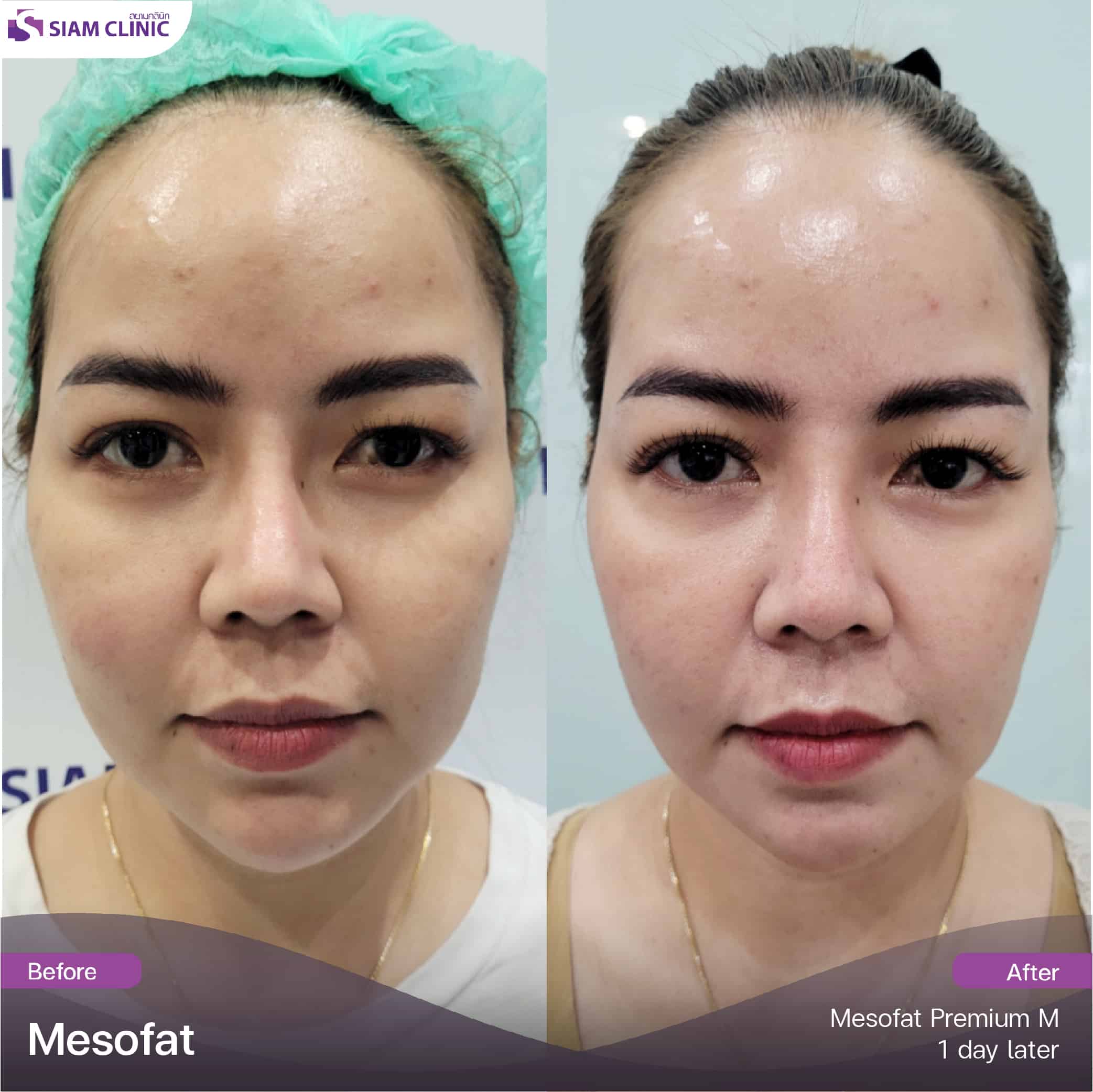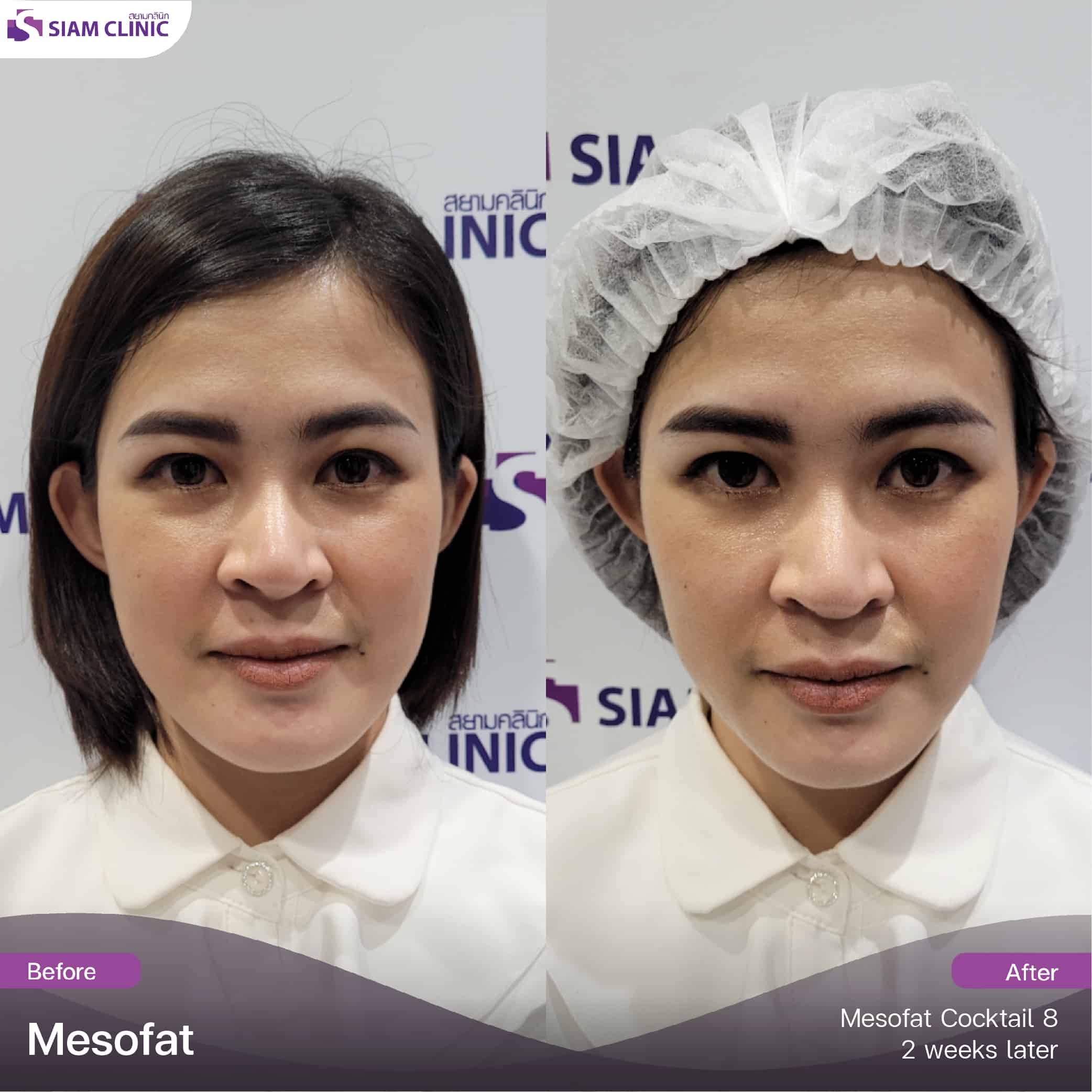 ---
Interested in our service, contact us